US' Pompeo echoes Netanyahu's call for action over Iran
Comments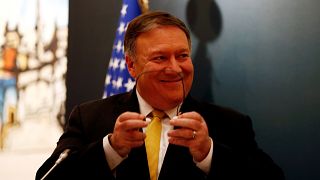 US Secretary of State Mike Pompeo joined Prime Minister of Israel Benjamin Netanyahu for a joint press conference as he visited Tel Aviv.
Netanyahu was full of praise for the newly-selected secretary of state saying he was "a true friend of Israel, a true friend of the Jewish people".
Both touched on the issues of Iran and US President Donald Trump's recent decision to recognise Jerusalem as the capital of Israel.
"Iran must be stopped, its quest for nuclear bombs must be stopped, its aggression must be stopped," said Netanyahu.
Pompeo echoed this saying strong cooperation between the two countries and other allies was "critical" in countering "Iran's destabilising and malign activity throughout the Middle East".
He said that the US was "recognising reality" in recognising Jerusalem as the capital of Israel, but stressed that the boundaries of Israeli sovereignty in Jerusalem remained subject to negotiations.
Pompeo is visiting the Middle East on his first foreign trip in his new role as the US' top diplomat.
The three-day tour will see him visit Jordan, Israel and Saudi Arabia, and include stops in Jerusalem and Amman.
He called for unity in the Gulf region during a visit to Saudi Arabia.
Speaking at a joint press conference with Saudi Foreign Minister Adel al-Jubeir, Pompeo said, "Gulf unity is necessary and we need to achieve it."
US state department officials told Reuters the tour is aimed at solidifying ties with key US allies in the area.