Toxic caterpillar outbreak in London
Comments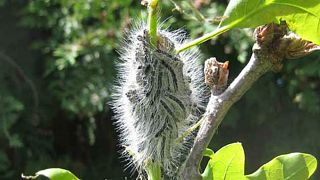 Copyright

Credit: Forestry Commission
An infestation of toxic caterpillars that can cause irritation, rashes and breathing difficulties has been identified in and around London, according to the UK's Forestry Commission.
The organisation issued a warning not to touch the creatures.
The larvae, or caterpillars, of the oak processionary moth (OPM) were first spotted emerging from egg plaques in mid-April.
The Commission has now identified more than 600 sites for treatment.
Areas considered to be in the "core zone" were parts of West London and Greater London, including Kingston Upon Thames — OPM have not been detected anywhere outside London or its neighbouring counties.
The commission considers the caterpillars, that live primarily on oak trees and move about in nose-to-tail processions, "a hazard to the health of oak trees, people and animals".
A protein in the caterpillars' tiny hairs can cause symptoms such as fevers and irritations of the eye and throat. 
Each caterpillar has around 62,000 hairs that they can eject and which then remain "active" for as many as five years.
While it is not, at present, a legal, requirement for people or businesses to treat OPM nests, the commission strongly recommends taking "action to protect yourself, your family, neighbours, visitors, staff, pets and livestock". 
Those owning oak trees in the affected area are strongly advised to "check their trees for OPM infestation," it said.
Individuals should not carry out the removal themselves but rather contact a professional pest control operator.
How to minimise risks
The Forestry Commission has put together information on the creatures, which includes a list of measures to minimise risks.
You should not:
Touch or approach nests or caterpillars

Let children touch or approach nests or caterpillars

Let animals touch or approach nests or caterpillars

Try removing nests or caterpillars yourself
OPM were accidentally introduced into London from continental Europe in 2005 and, despite eradication attempts, have become established and the affected area has grown in size.
The Forestry Commission believed if left uncontrolled, the moth could spread across much of Great Britain.
The organisation is carrying out a treatment programme which is expected to continue until late May or early June, after that the caterpillars will be too large to be affected by its preferred treatment product.