EU in 'tight spot' as Iran nuclear deal hangs in the balance, expert
Comments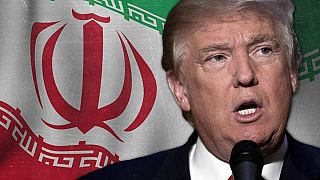 Political scientist Cornelius Adebahr, a research fellow at Carnegie Europe, spoke to Euronews about what may be in store if the US pulls out of the Iran nuclear deal.
Nearly four months ago, US President Donald Trump delivered an ultimatum on the Iranian nuclear deal to the three EU partners: "Either fix the deal's disastrous flaws or the United States will withdraw." If the US did withdraw, he would also refuse to extend his country's sanctions relief past a May 12 deadline.
Trump laid out several conditions on which the preservation of the deal, officially called Joint Comprehensive Plan of Action (JCPOA), was dependent, including severe sanctions for the development and testing of missiles, and granting international inspectors access to all sites as requested in perpetuity.
Trump needs to recertify the agreement every 90 days and as the May 12 deadline looms, it seems that the EU does not have a specific plan in place.
Euronews: The historic visit of the leaders of the two Koreas and the prospect of a nuclear deal on the Korean Peninsula with the United States, compared to the severely negative approach by Trump to Iran's nuclear deal, has raised the questions in Iran. Tehran is wondering whether it would have been better off posing a threat, like Pyongyang, and come to the negotiating table with this position of power.
Cornelius Adebahr: The two cases are strikingly different indeed, yet they do not compare easily. They speak more to the unpredictability of US policy than to the situation of either North Korea and Iran. That also makes it difficult to argue concisely that, had Iran only developed a bomb like Pyongyang, it would be in a different position today. First of all, Tehran has repeatedly declared that it has not and will not build a nuclear bomb. Starting a debate about the "what ifs" weakens this position from a categorical to a tactical one. Second, North Korea has a neighbour in the South that is aiming for peace, and one in the North that protects it. Iran has a very different regional environment and a different, more expansive, foreign policy. Finally, it's not only about the United States. The JCPOA was struck with six other world powers (China, the EU, France, Germany, Russia, and the United Kingdom), while the Six-Party Talk on North Korea has been suspended for nearly a decade.
Euronews: With Trump's potential withdrawal, how likely is it Iran will exacerbate existing crises in the region to exert pressure on US allies, in particular, Saudi Arabia and Israel?
Cornelius Adebahr: Such an escalation is certainly a possibility, and some Iranian decision-makers have actually pointed to it. Whether this is also in Iran's interest, is a different question. At least Israel seems fully prepared to take on Tehran also militarily, if not ready to pre-empt any attack. Like with the nuclear deal itself, it may be more advisable to stick to an imperfect agreement than to bring about a situation that is much worse for all parties concerned — for example, a widespread war in the Middle East. Whether or not the countries concerned, but in particular Iran, can settle for absolute gains — no war, some trade — or will feel compelled to measure the relative gains — "if I cannot win more, the other sides should lose too" — is the crucial question.
A possible US decision to pull out of the deal despite the new EU sanctions could leave Europe in a particularly tricky situation, according to Adebahr.
Cornelius Adebahr: Without doubt, the EU is in a particularly tight spot. Its aim is to maintain the re-established ties with Iran while keeping the United States in the deal. While transatlantic relations would suffer a severe blow from a US withdrawal from the JCPOA, they would likely survive broadly intact as they are so vast. However, EU-Iran relations would probably reach a new low if Tehran, even in response to a US violation of the deal, were to renege on its obligations and restart enrichment — let alone follow the North Korean script and develop a bomb.