UK: Rudd urged to quit over Windrush scandal
Comments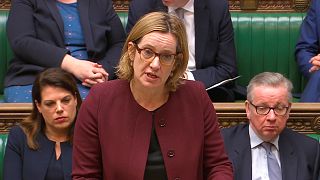 Britain's Home Secretary Amber Rudd faced renewed opposition calls to step down on Thursday amid the ongoing scandal over the country's treatment of Caribbean immigrants and their descendants.
The so-called Windrush generation was invited to the UK between 1948 and 1971 to fill labour shortages after World War Two. But some of them and their relatives have been denied basic rights and threatened with deportation because they were falsely branded illegal.
Rudd told MPs on Wednesday that Britain did not have targets for removing immigrants. 
Now it has emerged that targets were set - but she said on Thursday that these were different.
"The immigration arm of the Home Office has been using local targets for internal performance management. These were not published targets against which performance was assessed but if they were used inappropriately, then I am clear that this will have to change," Rudd told parliament in answer to an urgent request for a statement, made by the opposition Labour Party.
Labour Shadow Home Secretary Diane Abbott was scathing, reminding Rudd of a former Conservative foreign secretary who quit after the Falkland Islands were invaded by Argentina in 1982.
"When Lord Carrington resigned over the Falklands (war), he said it was a matter of honour," Abbott told the House of Commons. 
"Isn't it time that the Home Secretary considered her honour and resigned?"
Prime Minister Theresa May has expressed confidence in Rudd.
But May, too, is under pressure, given her long stint as Home Secretary before moving into 10 Downing Street in the wake of David Cameron's resignation after the 2016 Brexit referendum.
May has apologised for the Windrush scandal and promised citizenship to all those affected.
However the fiasco has raised awkward questions about how the pursuit of lower immigration after Britain's 2019 exit from the EU sits alongside the desire to be an outward-looking global economy.
with Reuters