End of the road for Caster Semenya?
Comments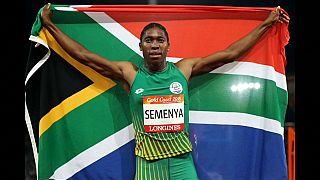 The career of controversial South African athlete Caster Semenya could be at an end after tougher rules came into effect on Thursday, forcing her to limit the levels of testosterone in her blood.
Semenya hit the headlines when she won the world junior championships in 2008 and the senior world title in 2009, with dramatic improvement in her times.
Other athletes say Semenya has an unfair advantage because of high levels of naturally occurring testosterone in her body.
The new regulations lay down a series of criteria for athletes with a Difference of Sexual Development (DSD) to be eligible to compete internationally.
Semenya, who competed at the Commonwealth Games this month, responded to the new rules on Twitter.
Under the new rules, Semenya will either have to take medication to compete in her middle-distance events - the 800 and 1500 metres - or move to longer-distance running where the new hyperandrogenism rule does not apply.