Czech Republic to open honorary consulate in Jerusalem
Comments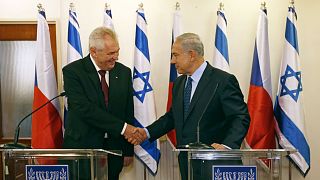 Copyright

REUTERS/Baz Ratner/File
The Czech Republic has announced plans to open an honorary consulate in Jerusalem next month in line with its recognition of the city as the capital of Israel.
"Last year, the Czech Republic has already expressed its position on Jerusalem as capital of the State of Israel, in its 1967 borders," the foreign ministry said in a statement.
"According to usual diplomatic practice, States have their embassies in the capitals of the receiving States."
The consulate is set to be opened in West Jerusalem next month, while a new Czech Centre will be opened there by the end of the year.
Foreign Ministry spokesperson Michaela Lagronova told AFP a Czech honorary consulate was previously opened in Jerusalem in the early 1990s but was closed in 2016 due to the death of the honorary consul.
The ministry said the decision to re-open the consulate "in no way prejudges" a final agreement on Jerusalem's status, and stressed that the Czech Republic "fully respects" the policy of the European Union, which considers Jerusalem the future capital of both the State of Israel and the future State of Palestine.
"The Czech Republic will go on striving for Jerusalem to remain an open city where people of different faiths can practice their beliefs freely. To make the city of Jerusalem a place of tolerance and understanding remains our ultimate goal," it said.
US President Donald Trump broke with decades of policy in December last year when he announced US recognition of Jerusalem as Israel's capital and pledged to move the embassy there.