Klopp satisfied with Liverpool first leg win
Comments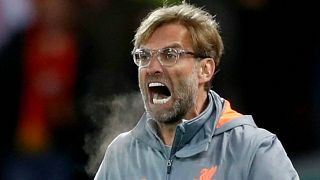 Jurgen Klopp was satisfied by his sides' Champions League semi-final first leg victory over Roma at Anfield.
Two goals from Mohammed Salah and Roberto Firmino and one from Sadio Mane put The Reds 5-0 ahead before Roma struck back scoring two away goals courtesy of Edin Dzeko and Diego Perotti.
Klopp said: '' It's much better than I could have expected before the game but we conceded two goals. I'm much more interested in the Stoke match ( Saturday) at the moment than the second leg against Roma. The atmosphere tonight was absolutely outstanding. We did really well, we prepared passes before the match that are difficult to defend with our speed but there is more work to be done.''
Liverpool suffered a blow in the first half when Alex Oxlade-Chamberlain had to be substituted due to a knee injury.
Klopp said: ''We lost a fantastic player tonight and that's not good news.''
Roma coach Eusebio Di Francesco was happy with his sides' two late goals.
''Paradoxically the 5-2 defeat is better than the 4-1 we result at the Camp Nou. Those two late goals give us a glimpse of hope ahead of the second leg.''