Armenian opposition calls rally as talks with government stall
Comments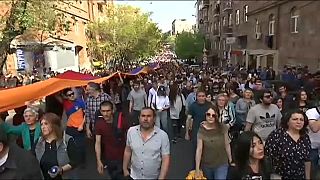 Armenian opposition leader Nikol Pashinyan has called on supporters to stage a rally today after talks with the ruling Republican Party were cancelled.
They had been initially planned for Wednesday after the resignation of prime minister Serzh Sarksyan following almost two weeks of street protests that plunged the impoverished ex-Soviet republic into political crisis.
Pashinyan made the call during a march to mark Armenian Remembrance Day.
He has accused the government of still trying to cling to power despite Sarksyan quitting.
The two sides reportedly could not agree on an agenda for the talks which Armenia's acting prime minister insisted included the opposition demand for early parliamentary elections.