Court fines Scottish man over 'grossly offensive' Nazi dog video
Comments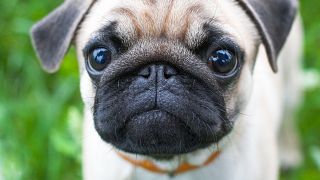 A Scottish man has been fined £800 after he trained his girlfriend's dog to perform Nazi salutes and react positively to anti-Jewish commands in a video that went viral.
Mark Meechan, 30, from Coatbridge, Scotland, was penalised Monday after being convicted last month for breaching a communications law by posting the "grossly offensive" footage in 2016.
The video, called "M8 Yer dug's a Naazi", attracted over a million views on Meechan's Count Dankula channel on YouTube before it was taken down. Other users on the site have since re-published it and racked up hundreds of thousands of views.
The video features Meechan training a pug to lift its paw upon hearing the command "Sieg Hiel" and react excitedly to the phrase "Gas the Jews". The pug, called "Buddha", is also filmed watching footage of Nazi leader Adolf Hitler at a Nuremberg Rally.
"Sieg Heil!" (Hail Victory!) is a German phrase that was commonly used as part of the 1930s Nazi salute, in which the right arm is extended into the air with a straightened hand.
Sheriff Derek O'Carroll slapped Meechan with the fine at Airdrie Sheriff Court, in a case that has attracted international attention and drawn ire from famous comedians who considered the guilty verdict an attack on freedom of speech.
Meechan told the court in March that he made the video as a joke to annoy his girlfriend Suzanne Kelly, 29, and only intended for a small circle of friends to watch it. But the judge was not amused.
O'Carroll said on Monday: "The video you posted, using a public communications network, was grossly offensive and contained menacing, anti-Semitic and racist material.
"You said you used the phrase 'Gas the Jews' because it was so extreme. You said the video content was horrific, but not when used as a joke.
"You intended the video to be as offensive as you could make it and you posted it on your own unrestricted publicly accessible video channel which on your own description: 'provides offensive social comedy and skits that get people thrown in prison'."
O'Carroll ruled that "such material tended to normalise anti-Semitic attitudes and provoke further unpleasant anti-Semitic messages" which had led to "great concern".