Van strikes pedestrians in Toronto; driver held
Comments
By Jonathan Dienst and Daniel Arkin with NBC News World News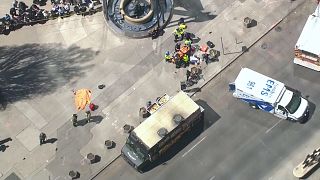 Please note: an updated and more detailed report of the attack is available here.
A van plowed into eight to 10 people in a busy intersection in Toronto on Monday afternoon, police said.
The driver of the van has been taken into custody, according to police. Authorities did not immediately identify the driver.
"We do not know the cause or reason for the collision but we can confirm the van has been located and the driver is in custody," a Toronto police spokeswoman told NBC News.
Police said they would not comment on the number injured or the severity of their injuries at this point. Graphic images from the scene showed at least two people on the ground near what appeared to be blood.
This is a developing story. Refresh for updates.