Commonwealth summit ends with choice of new leader
Comments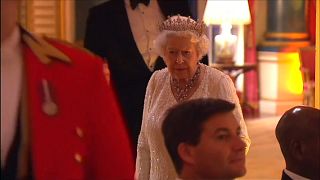 Commonwealth dignitaries have toasted Britain's Queen Elizabeth II at a banquet in Buckingham Palace, with the leaders of the 53-nation bloc holding a two-day summit in London that ends on Friday..
On the agenda is protecting the world's oceans and helping small states boost their cybersecurity.
Who replaces Queen Elizabeth II as head of the Commonwealth will be discussed on Friday.
Canadian Prime Minister Justin Trudeau said he wanted Prince Charles to take up the role, a position publicly expressed by Her Majesty.
Britain also hopes the meeting will be a launch pad for stronger trade ties with Commonwealth countries after the UK leaves the European Union next year.