Watch again: Macron and Merkel want to agree Eurozone reform by June
Comments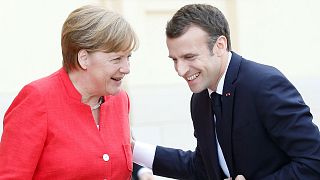 French President Emmanuel Macron says he wants to present a united front on reform of the Eurozone by June.
Macron was speaking in Berlin following a meeting with German Chancellor Angela Merkel on Thursday morning.
He said France and Germany both wanted to come up with how to improve the single currency zone by the beginning of the summer.
Macron's vision includes turning Europe's existing bailout fund into a European Monetary Fund (EMF), to act as a buffer in any future financial crisis in the bloc.
He has also suggested the eurozone have its own finance minister and, at one point, floated the idea of a budget for the currency bloc worth hundreds of billions of euros.
But it's a difficult issue for Merkel.
She is under pressure from her conservative bloc in parliament not to agree to any reforms that result in German taxpayers funding what they see as profligate eurozone peers.
Macron and Merkel are heading to the US in the coming days for separate meetings with US President Donald Trump.
Watch the Macron-Merkel conference in full