Spotlight on the future of transport in Poland
Comments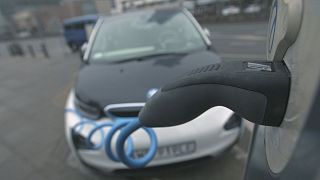 The success of economies in the future will depend on how well they adapt to new modes of mobility, as well as storing the energy needed to drive them. That's one of the issues in this episode of Spotlight, where we take a closer look at which companies in Poland are developing new technologies for the third industrial revolution.
Our road trip across Poland takes us to Lublin, home of the Solaris bus company. Started in a former munitions factory with three-dozen workers, it now has 2500 workers making a record 1500 buses this year, including 10% of Europe's electric buses.
Mobility Development Director, Matthias Figaszewski told us how their model has been able to cut through the competition to grow across Europe.
'The first electric bus our company presented in 2011. Those days our competitors were laughing about it. The next 3 up to 4 years we expect it to grow up to 30% of the total market.'
'We also see that the strongest demand from the markets regarding electric buses comes from European countries. At the moment we deliver our buses to Poland, Germany, Belgium, Spain, France and Norway.'
And you're also looking at other markets?
'Outside Europe we deliver our vehicles to United Arab Emirates, Dubai and to Turkey. In Izmir we are delivering our vehicles to Israel and other customers.'
Back in Warsaw, we found out more about the country's drive towards cleaner mobility, from Krzystof Senger, Vice President of the Polish Investment and Trade Agency. It includes billions in investment in research and development.
'We help companies find the best location in Poland, mix it up with a wide range of incentives – tax incentives, cash grants – in order to build up our electro-mobility market.'
LG has the largest battery factory in Europe for cars in Poland. What does that mean for the battery sector here in Poland, and what are the plans ahead?
'LG's investment is a huge landmark in creating electric vehicle batteries in Poland. Others, I think, will follow, and currently in our automotive industry pipeline we are working on 41 investment projects, and 10 of them are electro-mobility-related.'
How much of the investment is home-grown here in Poland? How are you trying to encourage that?
'We're working on growing our home market with a bunch of incentives. And we are helping Polish companies to start their R&D in the battery market.'
A national competitor to Solaris, is Ursus. That company, which started with tractors, has expanded its production to buses to meet the growing demand. It's also ratcheted up its R&D to build buses running on electric and alternative energies, including hydrogen.
'We're helping them to create the right environment for the investment, and of course mixing it up with government incentives for their overseas expansion. One of the examples of incentives is a corporate income tax exemption, if you locate your business in a special economic zone, you are allowed to exempt the tax.'
'Another example is a new law within the Clean Transport Package. Companies that produce electric cars and citizens that buy them will be incentivised. Cities will be allowed to introduce free areas that only electric vehicles could enter. And there will be incentives for local governments to buy electric vehicles for their purposes.'
The government aims to have 1 million electric vehicles on the road by 2025, with 60,000 charging points for them. That effort is under way in Warsaw, along with deploying electric buses.
And how about an electric vehicle that can navigate through urban traffic? Rafał Budweil is a pilot who came up with the idea of building Triggo – with a retractable wheelbase and drive-by-wire steering, like a plane.
'We deployed a variable-width suspension which provides for very narrow configuration for traffic jams and parking, whereas for high-speed operation the suspension extends to a width typical of a car.'
Rafal aims to have a street-legal version this year and start producing Triggos by 2020, with a different kind of marketing strategy.
And you're not going to sell it to individual customers, right? Who are you going to sell it to?
'We observed dramatic growth of the car-sharing services – mobility as a service. Platforms in Europe, worldwide. So our aim is to make it a choice Number 1 vehicle for car-sharing operators.'