Syria strikes spark opposition in the West
Comments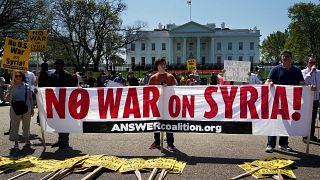 Copyright

REUTERS/Yuri Gripas
Critics of Western military intervention in Syria have taken to the streets following this week's missile strikes on the Assad regime.
In the United States, Washington and Chicago have both seen anti-war demonstrations.
Questions are also being raised by opposition politicians in all three countries that took part in the air strikes.
US Senate Democratic leader Chuck Schumer warned of the risks of being drawn into "a greater and more involved war in Syria".
Democratic Senator Elizabeth Warren said that any further military action in Syria must be approved by Congress.
While House of Representatives Democratic leader Nancy Pelosi said that "one night of airstrikes is no substitute for a coherent stragegy".
In Britain, Jeremy Corbyn has questioned the legal basis of missile strikes which, he says, risk escalating the conflict further. The Labour leader wants a parliamentary vote on Monday when Prime Minister Theresa May will make a statement in the House of Commons.
In France, Laurent Wauquiez, the opposition leader of the conservative Les Republicains, doesn't understand what he sees as action for action's sake, without any strategy behind it.
If President Assad was behind a chemical attack, Wauquiez said, he should answer to the International Criminal Court.
On the far-right, Front National leader Marine Le Pen says that France has missed an opportunity to present itself as an independent, balanced power.
Given the outcry from opponents of Trump, May and Macron, the military action may now be over - but the fallout has only just begun.