France's Macron 'convinced Trump to keep troops in Syria'
Comments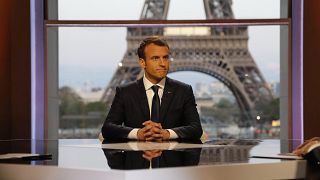 Copyright

Francois Guillot/Pool via Reuters
"It was the international community that intervened (in Syria)," French President Emmanuel Macron told journalists during a televised interview on Sunday.
Macron defended the air strikes France, the UK, and US carried out in Syria early Saturday in retaliation against a suspected chemical attack by Bashar al-Assad's regime on a Damascus suburb last week.
"We have complete international legitimacy to act in this framework," Macron said in an interview broadcast by BFM TV, RMC radio and Mediapart online news. "We have three members of the (United Nations) Security Council who have intervened."
It is the biggest intervention by Western powers against Assad in Syria's seven-year civil war, and Macron's first important military operation since his election in May.
"Three sites of production and treatment of chemical weapons were struck ... there were no Syrian or Russian victims, which is exactly what we wanted to do," he said.
"We had proof that chemical weapons were used by the Syrian regime on Syrians, that's why we intervened," he continued, adding that Russia was an accomplice in the use of chemical weapons.
"They (Russia) have not used chlorine themselves but they have methodically built the international community's inability to act through diplomatic channels to stop the use of chemical weapons."
The French president said he convinced US President Donald Trump to maintain troops in Syria and that the strikes should be contained to chemical sites.
Macron said he hopes to bring Putin's Russia and Erdogan's Turkey to the negotiating table in order to find a political solution for Syria.
The French president will visit Russia next month.