Trump announces strikes on Syria in response to suspected chemical weapons attack
Comments
By Daniel Arkin with NBC News World News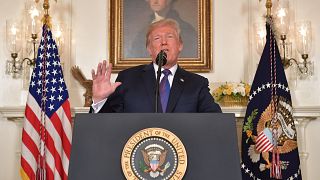 -
President Donald Trump on Friday ordered the United States military to launch strikes on Syria in retaliation for a suspected chemical weapons attack by the regime of President Bashar al-Assad on a Damascus suburb last week.
The president did not specify a target for the strikes, but he said the the United States would aim to hit things "associated with the chemical weapons capabilities" of Assad's regime.
"We are prepared to sustain this response until the Syrian regime stops its use of prohibited chemical agents," Trump said in remarks from the White House.
Witnesses in the country reported hearing explosions around Damascus late Friday night.
Trump also directed a message to Assad's main backers, Russia and Iran: "What kind of a nation wants to be associated with the mass murder of innocent men and women and children?"
He urged Iran and Russia to withdraw their support for what he called Syria's "barbarism and brutality."
The suspected nerve agent attack in the city of Douma in eastern Ghouta on April 7 killed dozens of people, local activists have told NBC News, including children.
Syria and Russia have denied any involvement in the alleged attack.
This is a breaking news story. Refresh for updates.