Russia says the western strikes on Syria are 'unacceptable and lawless'
Comments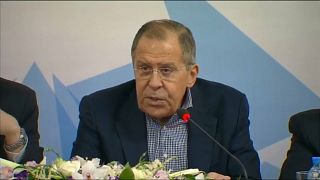 The western strikes on Syria are 'unacceptable and lawless', according to Russia's Foreign Affairs Minister, Sergey Lavrov.
A Kremlin official statement says "Without the authorization of the UN Security Council, in violation of the UN charter, of standards and principles of international law, we witness an act of aggression against the sovereign state which is on the forefront of the fight against terrorism"
Minister of Foreign Affairs, Sergey Lavrov said, "These acts are illegal and unacceptable. President Macron has publicly announced that there are irrefutable facts that prove the chemical weapons were used in Douma by, what they call, the "Assad regime". He talked, I believe, the day before yesterday with President Putin. During the conversation, our President quoted the public statement of the French leader regarding these "facts" and he asked to share them since, he said, we are the first ones who would like to put an end to such practices - the use of Chemical weapons. The answer was: it's a secret; we cannot provide this data. "
Iran's Supreme Leader Ayatollah Ali Khamenei said an attack on Syria by the United States, France and Britain was a crime and would not achieve any gains.
Iran's pragmatist President Hassan Rouhani also warned that the US-led missile attack on Syria would lead to further destruction in the Middle East.