Watch: Protests against Syria air strikes take place outside White House
Comments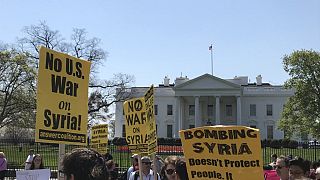 Copyright

Twitter/CoffmanSmith
Several dozen anti-war protesters against the Syria air strikes carried out by the US, France, and the UK in response to a chemical weapons attack gathered outside the White House on Saturday.
Protesters chanted "hands off Syria" and called for peace, not war.
The operation by the three Western allies bombed multiple government targets in Syria in retaliation for a suspected chemical attack by the regime of Bashar al-Assad on a Damascus suburb last week.
It is the biggest intervention by Western powers against Assad in Syria's seven-year civil war and has pitted the US and its allies against Moscow.
Other countries have also seen anti-war protests flare up in the wake of the air strikes.
Greek police said that more than 6,000 people rallied in central Athens against the raids, reported the AP. The protesters marched chanting anti-US slogans.
Video credit: Twitter/CoffmanSmith