New streamlined structure for VW
Comments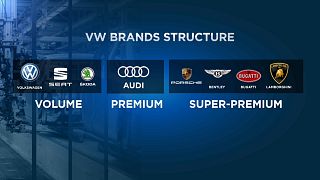 Volkswagen has introduced a new structure aimed at streamlining Europe's largest carmaker by bundling the company's dozen brands into just three divisions.
The restructuring comes in the face of increasing challenges from self-driving and electric cars.
"The basis of our further development is our conviction that a slim group is needed to steer strong brands," said Herbert Diess, the company's newly-appointed CEO. "This is what the new management structure of the Volkswagen group is focused on."
The group's structure is now composed of six divisions including 'volume', 'premium' and 'super-premium' segments.
The 'volume' business includes the VW brand, Seat and Skoda. The 'premium' segment will hold Audi at its core, while the 'super-premium' group includes sports car brands Porsche, Bentley, Bugatti and very likely, Lamborghini.
The restructuring is the most extensive undertaken by the company since the diesel emissions scandal three years ago which cost the company more than 20 billion euros.