The March of the Living in Poland
Comments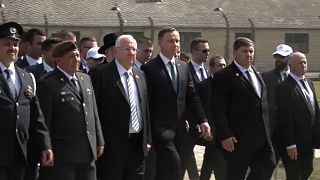 The shofar horn gives the signal for the 12 thousands participants in the March of the Living to start the solemn walk along a two-mile route from the infamous Auschwitz gate to mark International Holocaust Day led by the Polish and Israeli presidents.
The marchers include Holocaust survivors and thousands of Jewish students from all over the world.
One man came from Canada to take part in the march. He said he had not been back for 75 years.
"I am witness to the greatest crimes done to our people. We were always living in fear of being selected to go to the crematorium, to be beaten or starved to death," said Jan Jablon, a former prisoner at Auschwitz.
Conditions in Auschwitz were desperate says Samuel Bogl: "I didn't have anything to eat. Two slices of bread, some soup ... that was all for a whole day. And we had to work very hard. "
Jews from across Europe were sent to be killed at death camps built and operated by the Germans on Polish soil, including Auschwitz. More than three million of Poland's 3.2 million Jews were murdered by the Nazis.
This year's march comes several weeks after Poland passed controversial legislation criminalizing allegations of Polish complicity in the Holocaust.