Trump says decision on Syria strike 'fairly soon'
Comments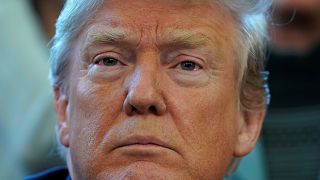 -
US President Donald Trump said on Thursday that a decision on a possible military strike against Syria will be made "fairly soon".
He told a briefing that his administration was looking very "seriously" at the situation after an alleged chemical weapons attack.
"Never said when an attack on Syria would take place," Trump wrote earlier on Twitter, adding that it "could be very soon or not so soon at all". .
The US president urged Russia to "get ready" for a missile attack targeting its allies in Syria in a Tweet yesterday. Following the statement airlines diverted routes and European governments including the UK held emergency meetings to discuss their own possible involvement.
The US accuses forces loyal to Syrian president Bashar al-Assad of launching a chemical weapons attack in the town of Douma. Russia, which is fighting alongside the Syrian army, threatened to down any missiles. It claims photos showing victims of the alleged gas attack are faked.
Following Trump's latest Tweet, Russian Foreign minister Sergei Lavrov warned that "silly" statements from Nato member countries were impacting financial markets. The Russian rouble has plunged as the crisis in Syria takes on a more international aspect.