Syria tensions 'threaten full-blown military escalation' - UN chief
Comments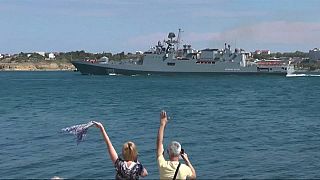 As Washington weighs up when, where and if it is to strike in Syria over a suspected deadly chemical attack, fears are mounting that head on confrontation with Russia could be the result.
So can the world wave goodbye to any hopes of peace?
Meeting for the fourth time this week on Syria, the UN Security Council heard this warning from the Secretary General Antonio Guterres: "Increasing tensions and the inability to reach a compromise in the establishment of an accountability mechanism threaten to lead to a full-blown military escalation. I've been reiterating my deep concerns about the risks of the current impasse and stressed the need to avoid the situation spiraling out of control."
While making the case for military action, the US envoy cautioned that "you don't rush decisions like this."
"Our president has not yet made a decision about possible actions in Syria, but should the United States and our allies decide to act in Syria, it will be in defense of a principle on which we all agree," said Nikki Haley, United States Ambassador to the United Nations. "It will be in defense of a bedrock international norm that benefits all nations....the United States estimates that Assad has used chemical weapons in the Syrian war at least 50 times. Public estimates are as high as 200."
But the Russian ambassador was defiant.
"We continue to observe dangerous military preparations for an illegal act of force against a sovereign state, in what would constitute a breach of international law," said Vasily Nebenzya, Russian Ambassador to the UN. "Not only the use of force but also its threat flies in the face of the UN charter and this is precisely what we have seen in recent rhetoric and actions by Washington and some of its allies."
As chemical weapons experts arrive in Syria to investigate, Moscow claims the alleged gas attack by government forces in Douma last Saturday was a fake, saying Britain was involved in staging these scenes.
A claim rejected by the UK as "grotesque".