Syria 'chemical attack': What we know so far
Comments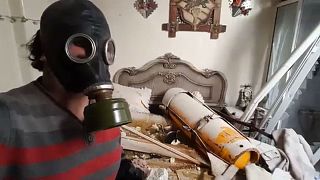 As many as 500 people were affected by an alleged chemical attack in Douma in the rebel-held Eastern Ghouta, Syria, on Saturday, varies sources claimed.
The Syrian government denied being behind any use of chemical weapons.
Euronews spoke to two experts in the field and gathered information put forward by international organisations and investigative groups — here's what we know so far about events at the weekend.
What evidence suggests this was a chemical attack?
Photos and videos described as shot in Douma after an attack purported to show a significant number of casualties, with many of them located in a single building. The victims appeared to show symptoms consistent with a chemical attack.
Open source investigation group Bellingcat geolocated one of the videos that the White Helmets, a voluntary rescue group operating in rebel-controlled Syria, said was filmed in Douma.
Foam around the nose and mouth "is one sign you see after nerve agent exposure", according to Alastair Hay, Professor (Emeritus) of Environmental Toxicology at the University of Leeds, who examined the symptoms seen in the footage. 
He added, it also looked as if people had "collapsed almost where they may have been exposed," -- provided the bodies had not been moved deliberately -- suggesting exposure to something "very toxic" and not just to chlorine.
Who wants to conduct investigations in the area?
The World Health Organisation requested "unhindered access" access to the site on Wednesday, citing activist reports that 70 people had been killed and saying health cluster partners claimed 500 people had suffered symptoms consistent with exposure to toxic chemicals.
On Tuesday, the Organisation for the Prohibition of Chemical Weapons (OPCW) announced it would soon deploy a fact-finding mission to the site, which coincided with a request from Syria and Russian to investigate the allegations of chemical weapons use in Douma.
Russian authorities questioned the validity of photos and videos said to have been taken after the attack and demanded further investigation.
What will need to be analysed?
An analysis in Douma would have to be carried out "on several levels" to build up a picture of what really happened, according to Dr Jean Pascal Zanders, consultant for chemical and biological weapons.
Firstly, investigators must carry out interviews with witnesses whose position at the time of the attack had been confirmed. They would then cross-reference various testimonials to either reinforce the narrative or find holes in any accounts.
Medical analysis of the victims, including the deceased, should also be carried out, but, according to Zanders, this may be an issue as "under Islam, there is a tendency to bury people immediately".
Those who survived, however, would display a number of clinical symptoms, indicating what they had been exposed to.
Another option would be an analysis of the site — if investigators could recover the shells of rockets that were used testing could be done on the inside of the object to "determine what its payload was".
Will an investigation be possible?
Insurgents left the enclave in Douma during the attack and Syrian forces moved in, according to Zanders, which would allow "Russians to take samples for international scrutiny".
He said the OPCW has some of the highest levels of skills in its area. "If the OPCW in cooperation with the UN cannot confirm an attack, then who can?"
With this in mind, only upon the completion of the organisation's report is it possible to know whether a chemical attack took place in Douma.