Queen dislikes helicopters — they remind her of US presidential visits
Comments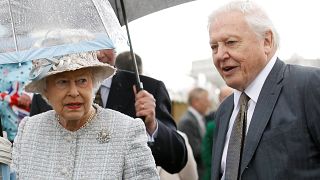 Britain's famed naturalist and filmmaker Sir David Attenborough has filmed a documentary with Queen Elizabeth II, which details the UK monarch's concerns for the environment.
"The Queen's Green Planet", to be shown on British broadcaster ITV later this month, focuses on the queen's Commonwealth Canopy, or QCC.
In her conversations with Attenborough, the queen talks about how QCC aims to create a network of protected forests in the UK and the Commonwealth.
In a more lighthearted moment of the documentary, the pair are interrupted by the noise of a helicopter as they take a walk through the gardens of Buckingham Palace in London.
The queen is heard asking Attenborough why helicopters tend to appear during conversations, saying: "Why do they always go round and round when you want to talk?"
She continues saying the noise reminded her of the aircraft used by US President Donald Trump, and his predecessor, Barack Obama.