Hungary's oldest daily newspaper has published it's last edition
Comments
By Andrea Hajagos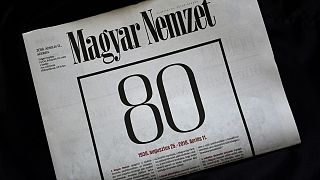 Hungary's oldest daily newspaper has published its last edition - signing off after 80 years with a stinging rebuke against the newly re-elected government of Viktor Orban.
"We believe that democracy and a free press could work in Hungary," said Magyar Nemzet in its closing editorial. "And we hope that it will come back"
The paper's owner says he can no longer afford to keep it running. Lajos Simicska was an ally of Orban before falling out with him three years ago.
Journalists working on the paper had hoped new benefactors would come forward.
Zsombor György, deputy editor in chief of Magyar Nemzeti, said: "At least if the government was not continuing with such an astonishing mandate, it would have been a sign the country understood the scam they are part of. How much hypocrisy the government wants to feed them, with its talk of immigration and George Soros."
The paper published many stories about corruption scandals concerning the Hungarian government. Its journalists are still hoping to find finance for an online edition.
The shut down comes exactly one and a half year after the closure of another historic daily Népszabadság.