Trump promises 'forceful' response over chemical weapons attack in Syria
Comments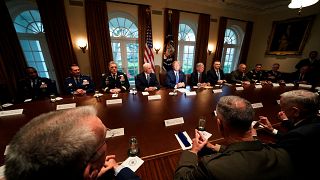 US President Donald Trump has promised a "forceful" response to the alleged chemical weapons attack in Syria over the weekend.
Mr Trump said the United States had a lot of military options in Syria and has the power to stop such atrocities:
"We're making a decision as to what we do with respect to the horrible attack that was made near Damascus," said Trump. "And it will be met, and it will be met forcefully. And when I will not say, because I don't like talking about timing."
At the UN, Russia has warned their would be "grave repurcussions" if the US acts unilaterally.
Today, US envoy Nikki Haley is expected to call for a Security Council vote on a new inquiry into the use of chemical weapons in Syria.