US, Russia clash over Syria at UN Security Council
Comments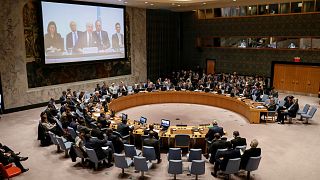 The US and Russia have traded threats at a United Nations Security Council meeting over the suspected deadly chemical weapons attack in Syria's Eastern Ghouta region.
At least 70 people, including children, died in the rebel-held town of Douma as a result of the alleged chemical attack on Saturday, according to aid groups working on the ground.
Russian UN Ambassador Vassily Nebenzia said Moscow has warned the US of "grave repercussions" if it carries out an attack against Syrian government forces over the alleged chemical attack.
"There was no chemical weapons attack," Nebenzia told the Security Council on Monday.
"Through the relevant channels we already conveyed to the US that armed force under mendacious pretext against Syria where, at the request of the legitimate government of a country, Russian troops have been deployed, could lead to grave repercussions," he said.
But US Ambassador to the UN Nikki Haley said the US "will respond" to the alleged attack regardless of whether the UN Security Council acts or not.
"We have reached the moment when the world must see justice done," Haley told the council.
"History will record this as the moment when the Security Council either discharged its duty or demonstrated its utter and complete failure to protect the people of Syria," she said. "Either way, the United States will respond."
The comments came after US President Donald Trump promised quick action in response to the "barbaric" suspected chemical weapons attack.
Speaking at a Cabinet meeting, Trump said he was in talks with military and other advisers and a decision would be made within 48 hours.
"Nothing is off the table," he said when asked if military action was a possibility.