Vedat Albayrak gives home fans a golden treat at Antalya
Comments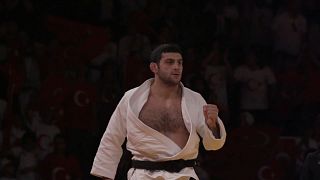 The IJF's world judo tour continued in Antalya, Turkey, with a fantastic opening ceremony, marking the start of day two.
Our man of the day was Vedat Albayrak, who gave the home fans a treat. He took on American Jack Hatton in the final. A mistake from Hatton allowed Albayrak to secure a hold down, sending the home the crowd wild. He held on for the full 20 seconds, earning Turkey under 81kg gold.
Sezer Huysuz, President of the Turkish Judo federation, presented Albayrak with his gold medal, a proud moment for Turkey as their anthem played out at their home grand prix in Antalya.
Albayrak said: ''I take the gold medal today and I feel very good, this is great! Here, it was a really good atmosphere for me and I arrived at the final to take gold. For me it is great, I have to train more to be able to get more medals."
Anna Bernholm was our woman of the day. The Swede took on Canada's Kelita Zupancic in the under 70kg final. Seizing her opportunity, as well as her opponent's arm, Bernholm rocked back and applied pressure to Zupancic's elbow, earning the submission and claiming the Ippon victory. It was a second world tour gold for the 27 year old, having moved up to the under 70kg division from under 63kg just 18 months ago.
''Yes I feel very strong in 70 [kilo class]," Bernholm said. "[I won] the gold medal in Abu Dhabi and bronze in Russia. So to take this gold, my first grand prix gold, is a great feeling.''  
Bernholm's teammate, Tommy Macias, also took gold with a shock win over multiple world medallist, An Changrim of Korea, in the under 73kg category, with a brilliant sumi gaeshi attack, scoring Ippon.
Magdalena Krssakova took the remaining gold on day two, as she countered Russia's Valentina Kostenko for a dominant under 63kg victory. Hooking on to her opponent's supporting leg and taking her backwards for the match-winning score.
Our move of the day came from Kosovo's Akil Gjakova with an explosive ashi waza, blocking the knee of his opponent and rotating him over for a perfect Ippon.