Corruption charges case against former President of South Africa Jacob Zuma adjourned til 8 June
Comments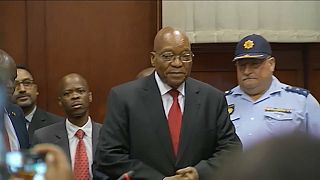 Former South African president Jacob Zuma appeared in court on Friday to face corruption charges relating to a $2.5 billion arms deal.
He faces 16 charges including fraud, racketeering and money laundering.
In a procedural appearance that lasted less than 15 minutes, state prosecutors and Zuma's lawyers asked the Durban High Court to adjourn the case until June 8 so both sides could prepare submissions.
Zuma supporters outside the court, said they would come out in force for Zuma's next court appearance in June and that the former president was the target of a politically motivated witchhunt.
Former President of South Africa, Jacob Zuma said outside the court, "It is now clear to me that those in the judiciary and politics, despite everyone having their own individual rights, they somehow think that I don't have the same rights."
Zuma denies any wrongdoing and is challenging the decision to prosecute the case.