Footballers go low to set world record match at Dead Sea
Comments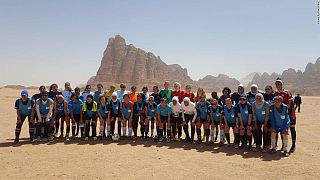 A group of women made their way 320 metres below sea level at the Dead Sea to set the world record on Thursday for the lowest-altitude football match ever played. The feat in Jordan comes less than a year after many in the same squad broke the Guinness World Record for highest-altitude football game played — at 5,714 metres on top of Mount Kilimanjaro.
The group of players are part of the Equal Playing Field initiative, which includes former professional and national players, and hail from more than 20 countries, including Australia, Spain, Palestine, India, UK and US. They have felt compelled to taken football to such highs and lows to raise awareness about inequality in women's sport, ranging from pay parity to just being allowed to play football in their home country.
The Dead Sea match was hosted in Jordan, where the players trekked 90 kilometres over two weeks before reaching the pitch. Jordan was particularly keen on the project, with Prince Ali backing the construction of the new football pitch nestled below sea level.
Following the match, the initiative's co-founder Laura Youngson said, "We were able to showcase the best of women's football with our team of strong female athletes."
Youngson, a 32-year-old Briton residing in Australia, told Euronews that it was after working with the London Summer Olympics and pro football teams in the UK that she realised "the power sport had for change".
The idea to break a world record by playing football initially started as a joke after she noticed while living in Azerbaijan that the men's football team was automatically funded while the women's team was not.
"I thought, you know what, wouldn't it be great if we played football on the top of Kilimanjaro, that'll show them," she said while laughing.
"Some key players come on board and we had a few Afghanistan players who were like: 'Look, I'm doing this for my country, I'm doing this for all the girls in my country who are unable to play.' And we realised that we should take this more seriously and have a bigger impact and really change things.
"Fast forward; we ended up climbing up a mountain with 25 nationalities, we set the world record for the highest-altitude match."
Kilimanjaro vs Dead Sea
The match on the peak of Kilimanjaro and that below at the Dead Sea were wildly different.
Sandrine Dusang, a two-time Women's Champions League winner who played with the French national team, described the affect of high altitude and heat.
"I think the atmospheres at the two matches were completely different. I remember having really suffered from lack of oxygen in Kili so our efforts were short and less frequent. I walked quite a lot to recover," she told Euronews.
"Here, in Jordan, it's the heat that was difficult to bear but we ran a lot more and the intensity of the match was a lot stronger. The quality of the match was better than in Kilimanjaro, but the two meetings and the two records will remain unforgettable memories. We achieved incredible things and I know that others will follow.
Equality in Europe?
Pay disparity has been an issue in women's sport. A 2017 salary survey revealed that gender inequality in football is more prominent than in business and politics. Dusang, a former Paris FC defender, commented on the situation faced by female players in her country.
"We are obviously not the most worse off in France and Europe but we still have a long way to go before women are on the equal footing with men. Salaries notwithstanding, I think there is still lots of work to do so that girls and women can easily play football and access the necessary infrastructure to progress," she said.
"The French Football Federation is really trying to work on that, especially given that France will host the U-20 World Cup next summer. These big events could be great levers to develop football played by women and to get a bit closer to gender parity."