UK, Ireland top EU countries ignoring scientific advice on Atlantic fishing
Comments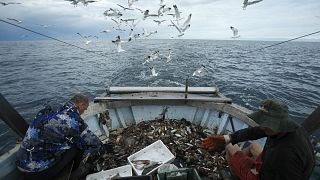 The UK and Ireland are ignoring scientific advice on fishing limits in the Atlantic, getting around EU quotas by increasing their overall catch to unsustainable levels, according to new research.
A report by the New Economics Foundation (NEF) found that Ireland, the UK, Belgium, and the Netherlands have the highest percentage of their fishing quotas for 2018 in excess of scientific advice.
In terms of the total tonnage of catch, the UK is the worst offender, at 79,893 tonnes above scientific advice, followed by Ireland, the Netherlands, Denmark and Spain, it says.
The research was based on catch limits advised by official fisheries science body ICES, compared to the limits ministers of EU member states got approved in closed-door negotiations in December.
"The risk of not following scientific advice is that the EU misses its 2020 deadline in the Common Fisheries Policy to bring down fishing pressure to what is sustainable," the report's author, Griffin Carpenter, told Euronews.
"This means sacrificing the size of fish stocks, of future catch sizes, and revenues and jobs for the fishing industry."
Fishing and Brexit
Carpenter told Euronews that efforts by the UK and Ireland to fight against EU quotas was one reason for their high fishing allowances.
"The UK and Ireland have long argued that their quota shares are unfair and they should be higher. Since the quota shares are fixed, however, the only way for Ireland and the UK to get more quota is to raise the overall quota and that, of course, is not sustainable," he explained.
He said the situation could get even worse after the UK leaves the EU.
"The temptation would be for the UK to set it's own 'fair share' but of course the UK taking 70% of scientific advice and the EU taking 70% of scientific advice is not sustainable, even if both sides believe they are being good actors and following advice in their own mind."
'More complex'
A spokesperson for Ireland's Minister for Agriculture, Food and the Marine, Michael Creed, told Euronews the report "does not reflect the complexity of the fisheries management and TAC setting mechanisms and the relationship to scientific advice."
"Minister Creed's aim each December is for an outcome that protects the continued sustainability of the Irish fishing industry and the coastal communities dependent on fishing in the short, medium and the long term," the spokesperson said, adding that Creed meets each year with experts and NGOs ahead of the December meeting and debates the issue in Irish parliament.
"Ireland is and has long been a major contributor to the scientific advice both nationally and at ICES level and the Minister works closely with the Marine Institute in considering all issues relating to fisheries management."
The UK's Environment, Food and Rural Affairs Minister George Eustice did not respond to Euronews requests for comment.