Oklahoma teachers embarking on 110-mile march to state Capitol
Comments
By Elizabeth Chuck and Associated Press with NBC News U.S. News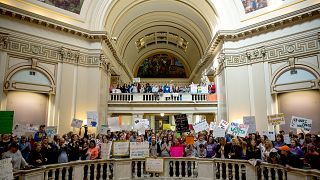 Copyright

Scott Heins Getty Images

-
More than 100 educators embarked Wednesday on a 110-mile march from Tulsa, Oklahoma, to the state Capitol building on the third day of a statewide teachers' walkout.
Across Oklahoma, thousands of teachers have staged walkouts since Monday to put pressure on lawmakers to increase funding for their classrooms, as well as raise teacher wages.
On Wednesday, a group in Tulsa took their walkout on the road, gathering outside Webster High School at 8:30 a.m. to make the 110-mile trek to Oklahoma City, where they will join tens of thousands of other educators at the Capitol.
"We are willing to walk 100 miles for our students," Patti Ferguson-Palmer, president of the Tulsa Classroom Teachers Association, told the Tulsa World. "What is the Oklahoma Legislature willing to do? We are not all young and fit."
Their trek, which will include rest stops, is anticipated to take seven days. Wednesday's leg, along Route 66, will take them to Kellyville High School, about 18 miles away.
Deborah Gist, the superintendent of schools in Tulsa, said those walking have already received a lot of support.
"It had me a little teary, actually," she told NBC affiliate KJRH in Tulsa. "Honking and waving, thumbs up, blowing kisses. Some would stop and offer assistance, people were bringing food. It was just really wonderful to see."
Last week, Republican Gov. Mary Fallin signed legislation awarding Oklahoma's teachers 15 to 18 percent salary increases. But that isn't enough for the educators, who say there also needs to be an increase in funding for students, who use crumbling, outdated textbooks, sit in broken desks, and are in overcrowded classes.
"We're marching for the kids, for better school supplies, so teachers don't have to buy all of them out of pocket."
"We do appreciate the raise. The main reasons that teachers are walking are because of the lack of funding for classrooms, the things that affect kids," said Brendan Jarvis, a seventh-grade geography teacher at Union public schools in Tulsa, who has been at the Capitol since Monday. "We're marching for the kids, for better school supplies, so teachers don't have to buy all of them out of pocket."
The teachers are also seeking more money for themselves. Oklahoma ranks 47th out of the 50 states and the District of Columbia in public school revenue per student, and its average teacher salary of $45,276 ranked 49th before the latest raises, according to the National Education Association.
More than 30,000 teachers and supporters camped outside the state Capitol in Oklahoma City on Monday, according to the Oklahoma Education Association. On Tuesday, about 1,000 teachers flocked inside the Capitol building, chanting, "We want our funding!"
The protests in Oklahoma were inspired by recent ones in West Virginia, another Republican state, where a nine-day strike led to a 5 percent raise for teachers.
Kentucky has also had teacher walkouts: On Monday, every public school in Kentucky closed when teachers gathered at the state Capitol to protest a pension overhaul bill that Republican lawmakers passed last week. About two dozen schools in two Kentucky counties were still closed Tuesday.
Meanwhile, in Arizona, where the average teacher pay is 43rd in the nation at about $47,000 a year, according to the National Education Association, educators are also mobilizing.
Last week, about 2,500 teachers rallied at the Arizona state Capitol demanding a 20 percent raise. On Wednesday, Arizona teachers, wearing red, held a "walk-in" where they held up protest signs and walked into their schools alongside those in the community who support their demands, reported NBC affiliate 12 News in Phoenix.
The Oklahoma teachers say they will continue their walkouts until legislators give them the increases they are seeking. More teachers are expected to join in along the 110-mile journey from Tulsa to Oklahoma City.