Trump agrees to keep US troops in Syria for undetermined time
Comments
By Carol E. Lee and Courtney Kube and Adam Edelman with NBC News Politics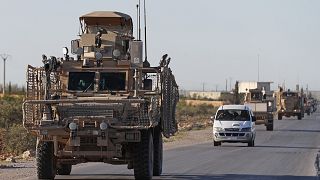 Copyright

Hussein Malla AP

-
President Donald Trump reluctantly agreed in a meeting with his national security team on Tuesday to keep U.S. troops in Syria for an undetermined time with the goal of defeating ISIS, a senior administration official said Wednesday.
"He wasn't thrilled about it, to say the least," the official said.
Defense Secretary James Mattis and other top officials made the case to Trump that the fight against ISIS was almost finished but a complete withdrawal of U.S. forces at this time would risk losing gains the U.S. has made in the ISIS fight, the official said.
Mattis told the president the Pentagon was already reducing the number of U.S. forces and would continue to do so, though he did not give the president a set timeframe for the end of the U.S. mission in Syria, the official said. The official said Trump "wasn't thrilled about that either," but agreed to give the effort more time.
"The president made his displeasure clear about any kind of long-term presence in Syria," the official said.
Tuesday's meeting followed a scramble by Trump's national security advisers to address his recent threat to pull out all U.S. forces in Syria.