Corsica's olives threatened by deadly bacteria
Comments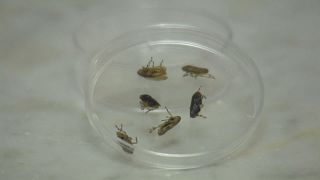 A deadly bacterial disease with no known cure that ravaged olive groves in southern Italy three years ago has been detected on the French island of Corsica.
Wild olive trees cover vast swathes of the Mediterranean island the authorities warn the risk of disease spreading is immeasurable.
A strain known as 'multiplex' - less virulent than the one that devastated olive groves in Italy in 2015 - has previously been detected in southern France as well as Corsica, but not on olive trees.
A laboratory in western France is said to be working hard to identify the particular strain.
Xylella fastidiosa, spread by tiny sap-sucking insects known as leafhoppers, has also been found on Corsica's holm oaks.
The news is devastating for the islands's olive oil industry which has an annual turnover of some three million euros.