Giant pandas spotted in Chinese nature reserve
Comments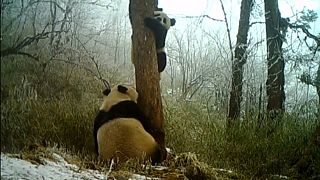 Wild giant pandas have been spotted in a nature reserve in southwest China's Sichuan Province.
Staff at the Anzihe Nature Reserve released the footage, taken using hidden cameras. They believe the pandas are a mother and baby.
The discovery is important as its shows the animals are successfully reproducing. The reserve is recovering from serious damage caused by an earthquake ten years ago.