Israel rejects UN call for inquiry into Gaza killings
Comments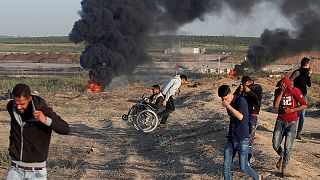 Dozens of Palestinians led by the Catholic Church in Ramallah have held candlelight protest against the latest violence between Israel and Gaza.
The traditional Palm Sunday march was cancelled in favour of the show of solidarity after Friday's lethal military response to a demonstration in Gaza.
Earlier on Sunday calls by the United Nations and the European Union for an inquiry into the deaths of 15 Palestinians were roundly rejected by Israel's defence minister.
Gaza has been shaken by the bloodiest episode in years after protests advertised as peaceful sit-ins turned violent, with Israeli troops firing on crowds of stone-throwers.
The protests have been organised by Hamas, the dominant Palestinian group in Gaza.
Israel has accused the group of using "violent riots to camouflage terror".