Georgia's Guram Tushishvili fights back at Tbilisi Grand Prix
Comments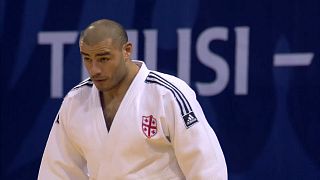 On the final day of the Tbilisi Grand Prix our man of the day was Guram Tushishvili, who stepped out with the weight of a nation on his shoulders. And he didn't disappoint.
After a brilliant osoto gari in his first contest the Georgian overcame Jur Spiijkers of the Netherlands with an explosive dropping sode tsurikomi goshi. He then used the same technique in his semi final against team mate Levani Matiashvili putting himself into the gold medal contest.
Javad Mahjoub was his opponent in the final and a upset looked to be on the cards as the Iranian countered Tushishvili scoring waza-ari to take the lead. But the Georgian's fighting spirit was plain to see as he battled back with a match winning hold down. The crowd went wild, as their hero topped the podium.
"I was expecting the final to be very tough, Tushishvili said, "because I know my opponent very well. This isn't the first time I have fought him. And he is very very strong, which is why it was such a hotly-contested final. And I have to say the crowd helped me so much and I want to thank the Georgian people for creating such an incredible atmosphere during the final. I will prepare even better next time and try to make fewer mistakes."
Romane Dicko became our woman of the day by overcoming Maryna Slutskaya of Belarus. A winding Maki-komi from the French teenager scored waza-ari. She then secured a hold down to end the contest and have the french flag raised in her name for the very first time on IJF World Tour.
"I don't think it's sunk in that I have won the gold medal, said Dicko. "Maybe tomorrow when I am in the hotel. I'm very happy now. When my father is with me I feel better because I know someone is here. So, for example, if I'm sad or if I have to tell something to someone I know that he is here. It's very cool."
An incredible osoto gari from Peter Paltchik scored Ippon and earned him the gold medal at -100kg. It was a brilliant moment for the Israeli as he took his second grand prix title and a third medal overall on the IJF World Judo Tour.
Former World Champion Audrey Tcheumeo was favourite in the -78kg category. Anastasiya Turchyn was her opponent in the final. The Ukrainian succumbed to Tcheumeo's superior ground work skills and the French Women took an emphatic victory.
Our move of the day was a seemingly impossible ura nage from Georgia's Onise Saneblidze. A perfect example of Ippon, Speed, control and Impetus.