Erdogan slams Kosovo PM over sackings after Gulen-linked deportations
Comments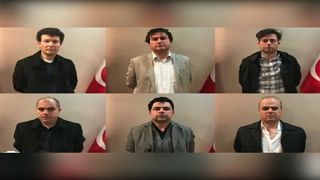 The prime minster of Kosovo has come in for stinging criticism from Turkish President Recep Tayyip Erdogan.
Turkish intelligence hunted down five teachers and a doctor working in Kosovo and deported them back to Turkey, accusing them of working for exiled cleric Fethullah Gulen, who Erdogan claims was behind the failed 2016 coup.
Prime Minister Ramush Haradinaj dismissed his interior minister and intelligence chief on Friday for failing to inform him of the operation.
"Our National Intelligence Service picked up six of their senior managers during an operation in Kosovo and brought them here. But I'm saddened. Kosovo's prime minister dismissed the chief of intelligence and the interior minister. Now I ask: 'Hey, Kosovo's prime minister, who told you to do this," said Erdogan. He then doubled down on his attack on Haradinaj.
"Since when have you begun to protect those who work to stage a coup against the Turkish Republic? Don't you know we were the second country in the world to recognise Kosovo, after not even an hour - America was first, we were second. How can you feed these people who attempted a coup against Turkey, which embraced Kosovo as a sibling?' You will also pay for this," he promised.
The prime minister of Kosovo explained his decision simply; that it was his to make, and his permission had not been sought.
Ramush Haradinaj then went to explain the situation in parliament, where the Speaker expressed his "shame" that such a clandestine operation had taken place on Kosovan soil to deport people who had valid Kosovan residency.