Russia responds to diplomatic expulsions by summoning 23 ambassadors
Comments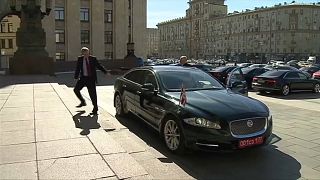 Russia's Foreign Ministry has summoned the heads of diplomatic missions from 23 countries to inform them it will expel diplomats from those countries equal to the number of Russian diplomats that they expelled.
The announcement comes as Russian diplomats pack their bags under the cloud of the Skripal poisonings in Britiain.
"Well, it's news we don't enjoy receiving. However, we didn't send two Russian diplomats away last week for nothing. I'm repeating this here again. There was a terrible attack with a chemical weapon in Salisbury, here on the European continent, that's why we have sent away the two diplomats. That was a countermeasure we will have to deal with," said the Dutch ambassador Renee Jones-Bos.
So far the West's housecleaning of Russian officials has spread far and wide, including most NATO members, with the vast majority of expulsions from Britain and the USA. The affair remains deeply troubling and opaque, with few details or facts beyond circumstantial evidence to go on.
It is clear Sergei and Julia Skripal were poisoned by a nerve agent known to have been developed in the Soviet Union. By whom remains unknown, or how. Julia Skripal is now off the crtitical list and improving, but her father remains in a critical condition.