Palestinian killed by Israeli forces amid Gaza border tensions
Comments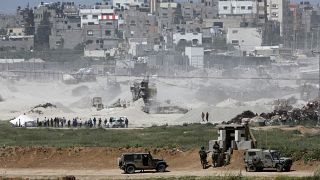 Palestinian and Israeli authorities have confirmed that one person has been killed by Israeli forces in Gaza on Friday. However, they have conflicting versions of events.
A Palestinian health official said a farmer had been killed and a second person wounded by an Israeli tank. But the Israeli military says it fired on suspects as they approached the border fence with Israel.
It comes amid rising tensions ahead of planned protests by Palestinians along the Gaza-Israeli border.
The spokesman from the Gaza health ministry said the incident causing casualties happened near the town of Khan Younis. The 27-year-old was "martyred and another citizen was wounded as a result of targeting of farmers east of Qarara village," he said.
Residents said the farmer was gathering crops to sell later.
An Israeli military spokesman confirmed that one person had died and was aware of reports another had been hurt. "Overnight two suspects approached the security fence and began operating suspiciously and the tank fired towards them," the spokesman said.
Israeli troops are on heightened alert along the border. The Israeli military enforces a "no go" zone for Palestinians on land next to Israel's border fence, citing security concerns.
Palestinians are planning a six-week protest near the Israeli border to demand that Palestinian refugees be allowed to return to what is now Israel. Organisers from several factions including Hamas have called for people to demonstrate in tent cities in five locations.
The start of the protest marks "Land Day" commemorating six Arab citizens of Israel killed by Israeli security forces during demonstrations in 1976. It is due to end on May 15, the day Palestinians call the "Nakba" or "catastrophe" when hundreds of thousands of Palestinians were displaced in the conflict which occurred when the state of Israel was created in 1948.
Watch our special 360° report on what is is like to live in in Gaza after 10 years of Israeli blockade