Erdogan dismisses France's offer to mediate wirth Kurds
Comments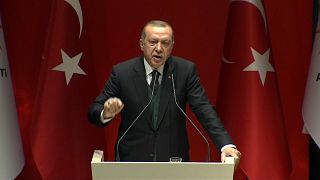 The offer by France to the Syrian Kurds to help them stabilise the north of Syria, including the possibility of ground troops, has met with a furious response from Turkey. The Turks do not not care they are fighting ISIL and islamic militants, For Ankara the Kurds are just as bad.
"I would like to stress that recently, we were deeply saddened by the completely wrong approach by France which we hope is a result of misperceptions. I spoke to Macron personally. I realised he was saying weird things. So when he said weird things, I had to tell him our stance, even if it was a bit high-octane," said President Recep Tayyip Erdogan.
Turkish Deputy Prime Minister Bekir Bozdag tweeted the French position was setting Paris on a collision course with Ankara.
"Those who enter into cooperation and solidarity with terror groups against Turkey...will, like the terrorists, become a target of Turkey," Bozdag wrote on Twitter. "We hope France does not take such an irrational step."
Macron has since said France could adapt its Syria operations in the fight against Islamic State, but "within the existing framework", but Erdogan was scathing about his offer to mediate between Ankara and the Syrian Kurds. "Who are you to talk about mediating between Turkey and a terrorist organisation?" he added.
The United States already has special forces units on the ground alongside the Kurdish YPG.