Racist chants target French football team in Russia
Comments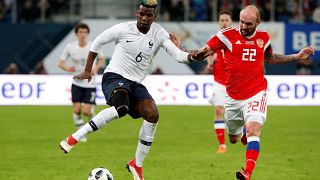 Copyright

REUTERS/Grigory Dukor
With only three months to the 2018 World Cup in Russia, two French national players have been targeted with racial abuse on the host's turf.
Monkey chants directed at Kylian Mbappe and Paul Pogba were heard during a friendly game between France and Russia in Saint Petersburg on Tuesday.
In this clip from French broadcaster TF1, Russian fans appear to be making the monkey noises before Pogba goes for a free kick and scores.
France defeated Russia 3-1.
French Sports Minister Laura Flessel tweeted on Wednesday that something must be done at the international level to stop this sort of incident from happening.
"Racism does not have a place on football fields. We have to react together at the European and international level to end this unacceptable behaviour."
During the game, Twitter saw an outcry against the monkey chants directed at the two French football players.
"How nice are the monkey chants when Pogba has the ball. This World Cup in Russia is going to be so nice."
Some also pointed out the lack of response from the game's commentators and journalists.
"Why not point out the public monkey noises targeted at Pogba @BixeLizarazu @gregmargotton @TF1." 
This is not the first time a racist incident overshadowed a match in Russia. A report by Fare, an organisation that tackles discrimination in football, said they found 89 instances of racist incidents during Russia's football championship in 2016/17.
The French Football Federation nor the Russian Football Federation have produced statements on the matter.