Belgium's battle against terror and radicalisation
Comments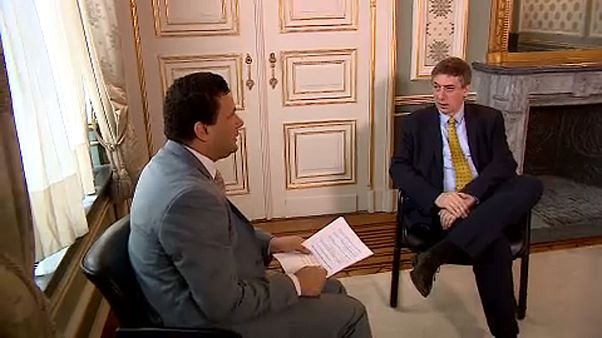 Belgium has found itself at the heart of Europe's fight against radicalisation and terrorism.
Two years on after the Brussels bombings, how is the country responding? And is it doing enough to prevent further attacks in the future?
Euronews journalist Aissa Boukanoun spoke to Belgian Interior Minister Jan Jambon.
Euronews: To face the terrorist threat, to fight radicalisation, to prevent Jihad candidates going to Iraq and Syria, to oppose the consequences of Islamophobia, the rise of racism and anti-Semitism. You have some big challenges. What are your priorities?
Jambon: The priority would be to re-form a political culture of security in this country. This means fighting a fight against violent extremism as well as against anti-semitism.
Euronews: Are there more suitable models to deradicalise people, or to reduce the risks?
Jambon: Being radical is not a problem in itself. I'm a radical, I'm a radical democrat. I'm a radical Flemish nationalist, so being radical is not a problem in itself. But when radicalism moves towards violence, towards violent extremism, this is when it becomes a problem. It's difficult to deradicalise someone who has extremist ideas and really wants to implement them through violence.
Euronews: Two-and-a-half years ago you announced that you are going to clean-up Molenbeek. Are there still terrorists living there, the place where terrorists involved in the Paris bombings lived?
Jambon: Those who've committed terrorist acts have been arrested. But there's also a network of supporters, backing these terrorists. Therefore it's a daily job for our services, who are working fast to find those who give and provide support to terrorists.
Euronews: How do you cooperate in Europe and internationally in the exchange of information?
Jambon: After the terrorist attacks in Paris and Brussels, we set up with France what we call a joint investigation team, which means judicial teams of joint investigations.
Euronews: Your country, like some other European countries, is experiencing a resurgence of acts of Islamophobia and anti-Semitism. What instructions do you give the police?
Jambon: I do not agree at all with your analysis, that we're a country with a rise in acts of Islamophobia and anti-Semitism, I do not agree. There are small groups that do exist and the police have the task of stopping them.
Euronews: What steps are taken over the return of Belgian foreign fighters to Belgium?
Jambon: I must tell you that Belgium had the sad record of having the largest number of foreign fighters in comparison with the number of inhabitants.
But today we have another record, a record number of prisoners with a connection to terrorism.
Euronews: How are you doing to prevent some terrorists from returning to the country illegally?
Jambon: People who ask for asylum, we check our databases. For those who apply for asylum, we check systematically and for those who are illegal, that's when we can stop them.
Euronews: After the victory of the anti-ISIL alliance, do you think ISIL is weaker today in terms of being able to commit attacks in Europe?
Jambon: I think they are weakened, they lost large territory, they lost a certain attractiveness to our young neighbourhoods, but the danger has not disappeared.