Spanish police battle mass protest as Catalan separatist leader is detained
Comments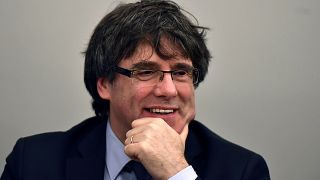 The detention of Catalan separatist leader Carles Puigdemont has sparked clashes between police and his supporters amid a mass protest in Barcelona.
Protesters threw rubbish and other objects at riot officers, who used batons to prevent their advance towards the Spanish government delegation building in the centre of the city.
Wanted on a Spanish arrest warrant, Puigdemont was detained in Germany Sunday after entering the country from Denmark, his lawyer said.
He faces up to 25 years behind bars for organising an illegal independence referendum in October.
Puigdemont had been in self-imposed exile in Brussels for the last five months before he travelled to Finland on Thursday.
He then left the country, announcing a return to Belgium after fearing the Finns were on the point of executing a Spanish extradition demand for him.
German police said he was arrested by a highway near the Danish border.
Puigdemont is one of 25 Catalan politicians the Spanish Supreme Court decided on Friday to try for rebellion, misuse of public funds or disobeying the state.
It is thought he is being held in a prison in Neumuenster, northern Germany.
A British police force also confirmed Sunday that they had received an arrest warrant for ex-Catalan minister Clara Ponsati and arrangements were being made for her to hand herself in.
Ponsati initially fled to Brussels with Puigement, before returning to Scotland where she worked as a Economics professor at St Andrews University.
Catalonia has been under direct rule from Madrid since the end of October, when Spain's prime minister, Mariano Rajoy, responded to the region's unilateral independence declaration by sacking Puigdemont and his government and calling a snap election.
This resulted in no majority, and with leaders detained or on the run, and no agreement between the Catalonian nationalist parties, a new electoral clock is ticking. If no new president can be nominated before the end of May, the constitution says Catalonia is heading for another elction, in mid-July.