Barcelona rallies for arrested Carles Puigdemont
Comments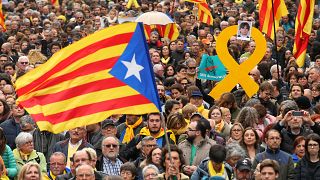 Thousands marched in downtown Barcelona as news emerged of Carlos Puigdemont's arrest in Germany. 
They rallied in front of the European Commission office and chanted his name.
There was another similar gathering in the northern city of Girona, where was mayor.
But at the same time there was a counter demonstration in support of the Spanish constitution.
Sources suggest he was planning to ask Germany for assylum.
Puigdemont was detained by German police Sunday who were executing an international warrant issued by Spain on Friday. 
He was returning from Finland to Belgium, where he fled following an illegal declaration of independence by the Spanish region in October.