Sarkozy says he's "living in hell"
Comments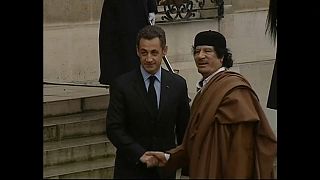 Former French President Nicolas Sarkozy has told magistrates that accusations of illicit Libyan funding for his 2007 election campaign were a web of lies that had made his life "hell" and lost him a re-election bid in 2012.
Le Figaro newspaper published an account of a declaration Sarkozy made to investigators in which he says accusations by a Franco-Lebanese businessman, Ziad Takieddine, who says he helped funnel five  million euros to Sarkozy's campaign chief ahead of the 2007 election were false as Takieddine was lying about the date of meeting he'd had with Gaddafi's son Saif Al Islam.
"During my custody, I pointed out a lie by Mr. Takieddine," he said. "Mr. Takieddine reportedly saw Gaddafi's son on 4th March 2011.  There can be no mistake about this date since it was the following day that Mr Takieddine was arrested at Le Bourget with a large sum of cash.
"Mr Takieddine said he asked Gaddafi's son if what he had told Euronews about the financing of Nicolas Sarkozy's campaign was true. But this fact is materially impossible since the interview with Euronews with Saïf Al Islam took place only 12 days later, on March 16th.
"How can you ask someone about a programme that didn't take place and about things that hadn't yet been said? That's a lie!"
He added: "I am living in hell."
Prosecutors are looking into allegations that Sarkozy's 2007 election campaign was aided by millions of euros in money from late Libyan leader Muammar Gaddafi.