Opposition Ukrainian MP detained on coup plot charges
Comments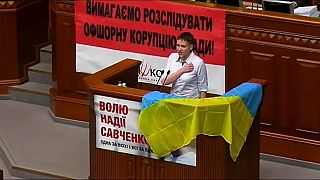 A Ukrainian MP who was a prisoner of war in Russia has been detained on charges of planning a military-style coup.
Nadiya Savchenko is a former military helicopter navigator who became a Ukrainian heroine - and an MP - for her show of defiance whilst on trial in Russia.
She says undercover agents seeking to discredit her had encouraged her to plan to overthrow the government - and that she had played along to bring the authorities' schemes to light.
Savchenko has increasingly opposed the government - even holding talks with separatists without its consent.
"This is not a terrorist act, this is a political provocation to make the authorities look ridiculous," she said at a briefing on Tuesday.
She was detained in parliament on Thursday after lawmakers voted to remove her parliamentary immunity from prosecution and granted General Prosecutor Yuriy Lutsenko's request to allow her to be taken into custody.
"The plan was to overthrow the constitutional system by carrying out terrorist attacks on Kiev's central government quarter ... using weapons received from the leaders of the so-called DNR," Lutsenko told MPs, referring to the separatists.
The accusations mark a fall from grace for Savchenko, whose steely defiance while on trial in Russia, including hunger strikes and showing a judge the middle finger live on TV, earned her the nickname of Ukraine's "Joan of Arc".
She returned in May 2016 to great fanfare after a prisoner exchange with Russia, but quickly became a fiery and unpredictable opposition figure in parliament.