Man injured after jumping from public gallery of Dutch parliament
Comments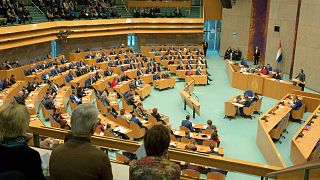 Copyright

Tweede Kamer (File)
A man was injured on Thursday after jumping from the public gallery of the Dutch parliament into the debating chamber below with something tied around his neck, according to police.
In a statement, police confirmed that a 65-year-old man had been taken to hospital following the incident.
They said the man had "an object" around his neck that was tied to a stand.
A public video feed of the speakers' podium showed lawmakers looking shocked after a loud thump before the session was postponed.
Photos shared on social media showed the man receiving first aid on a lawmaker's desk and later being carried out of parliament on a stretcher.
De Telegraaf newspaper quoted eyewitnesses as saying that the man had been pacing in an agitated state before tying something to a railing and jumping off.
The paper identified him as an activist who had been camped outside parliament to call for the legalisation of cannabis, which is technically illegal in the Netherlands but widely available.