Expresso yourself! Meet Nigeria's coffee artist
Comments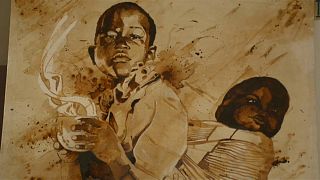 Who needs paint?
An artist in Nigeria is combining his love for coffee with his creative skills - by making masterpieces with the beverage!
Ekene Ngige's work sells for more than 200 euros. And it all came about by chance.
"We were having a meeting, a short meeting," he explained.
"And I was drinking a latte and it dropped on my jotter... And the colour looked so nice on the paper. The texture just looked so lovely and I was like...this thing can actually make a nice art piece!"
Crafted with care at his studio in Lagos, Ekene's art covers critical subjects including poverty and terrorism, telling stories of girls affected by the Boko Haram Islamist insurgency in the country.
Having studied fine arts, Ekene, 35, now uses instant or brewed coffee, to bring out different shades of the same colour.
And if you are tempted to have a go at home, don't be shy. Expresso yourself!
with Reuters