Kosovo MPs let off tear gas in parliament over controversial border deal
Comments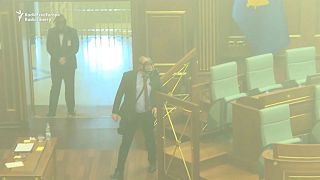 This is the moment MPs threw tear gas canisters in Kosovo's parliament to disrupt a vote on ratifying a controversial border deal with Montenegro.
The opposition party Vetevendosje claim an agreement signed in 2015 will surrender some 8,000 hectares of Kosovo's territory to its neighbour.
Opposition MPs have frequently let off tear gas in Kosovo's parliament in a bid to disrupt controversial proceedings in recent years.
Ratifying the deal is a key condition for Kosovo to gain visa-free access to Europe's border-free Schengen zone, a perk already afforded to other countries in the region like Serbia, Albania, Montenegro, Macedonia and Bosnia.
Montenegro's parliament rubber-stamped the deal in December 2015 but successive Kosovan governments have failed to rally a majority behind it.
"It's one of the most important subjects for the country," said Kosovo's Prime Minister Ramush Haradinaj, who had opposed the deal before coming to power. "Voting for (ratification) does not put in danger Kosovo's territory."
Kosovo and Montenegro both emerged from the ashes of Yugoslavia.
The former unilaterally declared independence from Serbia in 2008, which has been recognised by the US and EU countries but opposed by Serbia and Russia.
Montenegro meanwhile emerged as a sovereign state after a referendum in 2006 backed its split from Serbia.